Puple Silver Cables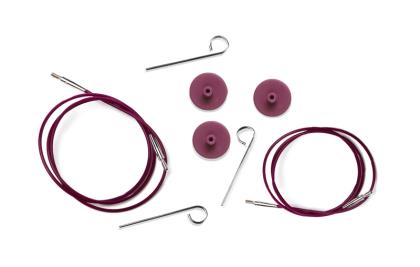 Puple Silver Cables
Code:

10500

Size(s):
Details:

Cable : 20cm to make 40cm/16" IC Needles

With 1 cable key & 2 end caps

Availability:

In Stock

Add to My Wishlist
mixing lexapro and weed
mixing zoloft and weed
redirect
KnitPro purple cables are extremely flexible, lack memory, are easy to store and screw on, and are available in a wide range of lengths to suit individual requirements.
can i buy sertraline online uk
buy sertraline
online
Cables in varying lengths can be attached to needle tips to get circular needles of desired length. One can make circular needles of lengths ranging from 20cm to 60 cm.
augmentin generico prezzo
augmentin costo
open
Individual cables in seven different lengths with one cable key and two end caps.

35cm to make 60cm/24" Needles
` 90

56cm to make 80cm/32" IC Needles
` 90

76cm to make 100cm/40" IC Needles
` 90

94cm to make 120cm/47" IC Needles
` 90

126cm to make 150cm/60" IC Needles
` 90

28cm to make 50cm/20" IC Needles
` 90